The nation's largest retailers are being warned by the Occupational Safety & Health Administration that they are responsible for the safety of employees and guests during the holiday season, particularly during sales events designed to draw crowds for Black Friday.
Our Massachusetts workers' compensation lawyers and Boston injury attorneys know that work accidents or premise liability cases can arise when retailers purposefully attempt to draw huge crowds for in-store promotions. Yahoo! reports this year's hot items will include HDTVs, e-readers and iPads.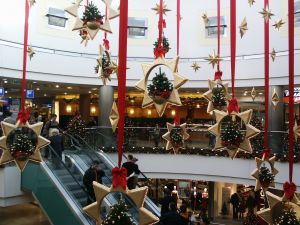 OSHA sent a letter to the CEOs of 14 of the nation's largest retailers, highlighting the agency's "Crowd Management Safety Tips for Retailers," and reminding them of the 2008 death of a retail employee, who was trampled to death at a Back Friday sales event.
"Crowd-related injuries during special retail sales and promotional events have increased during recent years," said Assistant Secretary for OSHA Dr. David Michaels. "Many of these incidents can be prevented by adopting a crowd management plan, and this fact sheet provides retail employers with guidelines for avoiding injuries during the holiday shopping season."
Tips for retailers include:
-Make sure all employees are aware the doors are opening.
-Staff entrance with security personnel.
-Use public address systems to maintain order.
-Position door personnel to the side of the entrance and not in the path of customers.
-Do not permit a store to exceed maximum capacity.
-Provide a safe entrance for people with disabilities.

If you have been injured in a Boston work accident, contact the Massachusetts workers' compensation attorneys at the Law Office of Jeffrey S. Glassman for a free and confidential appointment to discuss your rights. Call 877-617-5333.