According to a recent news feature from FOX, at least eight people are dead and another 44 people suffered varying degrees of personal injury when a tour bus on a casino trip was involved in a rollover accident.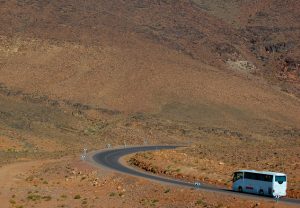 Authorities say the bus operator was driving at highway speeds on Interstate 83 in Texas when he lost control of his commercial motor vehicle.  After losing control, the bus veered off course and then violently rolled over.  The driver was among the survivors of this horrific traffic accident.
When first responders arrived at the scene of what they have declared a mass casualty accident, they saw the bus in the grass off the side of the road. Witnesses say the crash was so violent that there was evidence where the bus plowed through the grass, as there was dirt and broken glass from the widows everywhere.
There were seven people killed in the bus crash and many others who were injured.  One of the more seriously injured passengers was airlifted to a level-one trauma center, but his or her injuries proved too severe, and the person was later pronounced dead.  The names and identities of the driver and the passengers have not been released.
The state highway patrol officers were on the bus accident scene trying to figure out the cause of this horrific accident.  There has been no report as of this time as to why the driver lost control of the bus.  The state highway patrol department has an accident reconstruction team that is already working to determine why this fatal accident occurred, and the National Transportation Safety Board (NTSB) that is charged with investigating accidents across the United States involving commercial vehicles of all kinds has deployed its own accident reconstruction team to assist with the investigation.
We hear about these serious bus accidents year after year.  Some of bus crashes are a result of driver error, or negligence, as it called by our Boston personal injury lawyers.  Some accidents occur when the driver does not make any mistakes but the vehicle had been negligently repaired.  One common problem, according to the NTSB, involves the use of retread tires.
There is no question that bus and truck tires are expensive.  One of the reasons they are so expensive is because, due to their large size, they are expensive to ship and to stock as inventory.  The tires will wear down like any other tire and need to be replaced. However, there are companies that take worn down tires and glue new tire tread to them.  These are called retreads.  The problem is that the replacement tread can tear of fall off when the tire is in motion, resulting in a crash.  They are allowed on some wheels but not others, and they must be inspected to be roadworthy.
It should be noted that, in this case, there has not been a determination as to the cause of the accident, and there have been no claims of liability as of this time. It is not known if there was a mechanical defect in the vehicle as of this time as well.
If you are injured in Boston, call Jeffrey Glassman Injury Lawyers for a free and confidential appointment — (617) 777-7777.
Additional Resources:
At least 8 killed, 44 injured in Texas bus accident, May 15, 2016, Fox News, AP Wire
More Blog Entries:
Summer Swimming Pool Safety in New England, May 15, 2014, Boston Personal Injury Lawyer Blog