Train Strikes and Kills 25-year-old Joseph A. Cerrato, III in Middleboro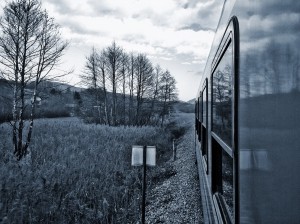 A call was received Tuesday night, April 1, 2018, that a pedestrian man was struck by a SB MBTA commuter train.  The accident happened around 7:55 pm near the Middleboro/Lakeville stop just after the Bridgewater stop.  This is west of Everett Street, near Route 44.
Middleboro police and fire departments responded to the call.  When they arrived, they discovered the man had been killed by the impact.  The crash scene was about half a mile long.
The victim was not immediately identified but has now been identified as 25-year-old Joseph A. Cerrato, III, a 2012 graduate of Middleboro High.
Police and Fire evacuated the train of the 46 passengers on board.  None of the passengers were injured in the collision.  The train was not easily accessible.  Emergency personnel had to go through a fence in Middleboro on Maple Road.  A path was made to the train, to allow the passengers to leave the train.  The passengers were then transported by school bus to the next stop, about three miles away, at Middleboro/Lakeville.
It is not clear how the accident occurred, so MBTA police, the Plymouth County District Attorney's office, and Middleboro police continue to investigate the accident.
MBTA Accidents
The MBTA carries thousands of people through many cities and towns in Massachusetts daily.  Although, it may seem safe, there is always the threat of an accident with the amount of people and the amount of trains running daily.  There is a history of accidents, so it is important that you are aware of what to do if you, or a loved one, is hurt or killed by an MBTA commuter train.
We care about you and your case here at the Law Offices of Jeffrey S. Glassman, LLC.  After you've been injured, we would like to help you get the compensation you deserve.  Do you feel you need legal assistance because another person's negligence has caused you to be or a loved one to be injured?  If you or a loved one have been killed or injured in a car accident, please contact the Law Offices of Jeffrey S. Glassman, LLC at (617) 367-2900 as soon as possible.
Note for readers: Information provided in this post is gathered from secondary sources and not independently confirmed for accuracy. Please bring to our attention any inaccuracies that may be included so they may be corrected, or information removed as requested.
DISCLAIMER: Information provided in this post is not intended to be used as legal or medical advice, nor disrespect the victims or families in any way.  We are providing this post for general information on everyday tragedies and presented in a manner to protect and honor the victims and their families.  Minor differences can change the outcome of cases, based on jurisdictional laws.  The information provided in this post should not be relied upon as legal or medical advice.  We suggest seeking assistance from legal or medical professionals for your personal circumstance, when necessary.