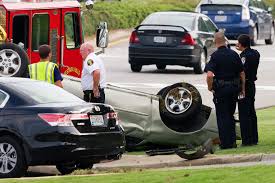 Wrentham, MA (July 8, 2018) – One person was killed in a rollover crash early Sunday morning in Wrentham.  The crash occurred on Interstate 495.  This crash occurred less than two hours after a fatal motorcycle crash in Rockland, marking a deadly night on Massachusetts roadways.
The Massachusetts State Police responded to the crash.  There, they found a car rolled over from the impact of a recent collision.  The driver was transported to a nearby hospital where they succumbed to their injuries.  There is no word on what caused the collision.  It is also not immediately known if any other drivers or passengers were affected by the collision.  State Police are still looking into the crash and an investigation remains ongoing as of Sunday afternoon.  The deceased driver was not identified.
Boston Accident Attorneys
A fatal car accident is one of the most traumatic experiences that the family of a loved one can experience.  Because fatal accidents happen so unexpectedly, there is no time for closure.  The friend or family member is seemingly ripped away, suddenly and unjustly.  Loved ones are left behind to start the long process of grieving and deciding what to do next.  If you are facing this situation, rest assured you are not alone.   Even in the darkest times, you have certain legal rights that can and should be protected.
In cases of fatal car accidents, the law steps in and provides legal recourse to the family members of the victim.  In Massachusetts, a wrongful death lawsuit can be brought against a driver whose negligence causes a fatal crash to occur.  Wrongful death lawsuits may be brought in any type of accident from speeding, to reckless driving to OUI and more as long as the negligent act led to death of another individual.
At the Jeffrey Glassman Injury Lawyers, our attorneys have years of experience in Massachusetts wrongful death lawsuits.  These cases are highly complex and should never be attempted without sound legal representation.  At our firm, we will help you pick up the pieces following the death of a loved and will protect your legal rights when it comes to receiving the compensation you deserve.
Call us today at 617-367-2900 for a free consultation with one of our team members.  We are waiting to hear from you.
Note for readers: Information provided in this post is gathered from secondary sources and not independently confirmed for accuracy. Please bring to our attention any inaccuracies that may be included so they may be corrected, or information removed as requested.
DISCLAIMER: Information provided in this post is not intended to be used as legal or medical advice, nor disrespect the victims or families in any way.  We are providing this post for general information on everyday tragedies and presented in a manner to protect and honor the victims and their families. Minor differences can change the outcome of cases, based on jurisdictional laws.  The information provided in this post should not be relied upon as legal or medical advice. We suggest seeking assistance from legal or medical professionals for your personal circumstance, when necessary.