All of the trucking accidents in Massachusetts and elsewhere have raised an important question among officials — What does it take to drive a truck? Now, attention is being focused on the rules and regulations that govern commercial driver's licenses. Officials are now shifting their attention to help to reduce the risks of these kinds of accidents.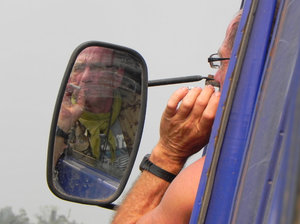 You may remember the accident that happened in Fall River on Route 79 in which the truck driver involved allegedly had a four-page driving record. It was his truck that burst into flames in the accident, endangering nearly everyone on the roadway. The driver had five speeding citations, three accident infractions and a number of other violations, including impeding police operation and failing to obey. To make it even worse, he has drug distribution charges that led to a suspended license. Yet, he remains behind the wheel.
Our Boston trucking accident attorneys understand that even with all of these violations, the driver was able to get his CDL license in late November. And after the most recent Fall River accident, the driver faces no charges. He is a self-employed trucker who had an active driver's license and a CDL at the time of the accident. Even with all of the previous driving infractions and the most recent accident, he's still on our roadways, according to Wicked Local Westport.
Currently, in the state of Massachusetts, you need a CDL to operate any kind of vehicle with a maximum weight (when loaded) of 26,001 pounds or more. According to Massachusetts Department of Transportation (MassDOT), if a vehicle weighs less than that, a CDL is needed to transport hazardous materials or 16 or more people at one time. There are also different CDLs, depending on whether the driver is towing another vehicle that's more than 10,000 pounds.
A driver must be at least 18-years-old to get one of the licenses in the state. Drivers have to be at least 21-years-old if they drive between states. These drivers aren't allowed to test for a permit or a license when their license in suspended. Suspension can result from charges of drunk driving, drug distribution, leaving the scene of an accident, etc.
Criminal records do not have to be examined before taking the license test even though a commercial trucker isn't allowed to have any of these offenses (resulting in license suspension) on their record. While many companies won't hire truckers with shoddy driving records, there are some that do.
Still, those looking to obtain a CDL are not required to take a driving class.
How a driver can lose a CDL:
-If they receive a first-year offense, such as driving under the influence, using a commercial vehicle to commit a felony or leaving the scene of an accident, their license will be taken away.
-If the offense is committed when a driver operates a vehicle carrying hazardous material, they lose the license for three years as opposed to one. If that's committed twice, the license is lost for life.
-The license is suspended for life if a CMV is used to commit a felony involving controlled substances.
-If a driver gets two serious traffic citations in a three-year time frame, their license is suspended for 60 days.
-If a driver gets three serious traffic citations in a three year time, their license is suspended for 120 days.
"As far as the number of citations issued, we are probably more in the middle of the pack, in following with those federal standards," said Michael Verseckes, a spokesman for MassDOT.

If you, a friend or a family member has been injured or killed in a car or trucking accident in Massachusetts, contact Boston Injury Attorney Jeffrey S. Glassman for a free and confidential appointment to discuss your rights. Call 877-617-5333.
Additional Resources:
In wake of Fall River crash, what does it take to drive a truck?, by Marc Larocque, Wicked Local Westport
More Blog Entries:
New England Trucking Accident Blamed on Faulty Brakes, Boston Personal Injury Attorney Blog, October 12, 2011
Distracted Trucker Heading to Boston Slams into Amtrak Train Causing Fiery Accident, Boston Personal Injury Attorney Blog, September 27, 2011