Boston streets are some of the busiest in the country. That's the reason why risks for pedestrian accidents in Massachusetts are so high. You need to be on the top on your game to avoid one of these accidents along our state's roadways.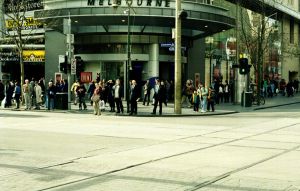 An elderly resident was recently killed in a recent pedestrian accident in Worcester. The 69-year-old woman who used a cane to walk was hit by a teenage driver in a pickup truck as she attempted to cross Route 20 at roughly 7:00 p.m., according to the Boston Globe. Witnesses say that the elderly pedestrian flew nearly 30 feet in the air after collision. The Worcester police station reports that no citations have been issued.
Our Boston personal injury attorneys hear the vehicles zipping by nearly every day on our commute to the office. We understand the dangers that are presented on our state's busy roadways. As we recently reported, Massachusetts' highway safety division is working on a way to promote safe driving habits in 2012 to help to reduce the risks for our on-foot travelers. The number of pedestrian fatalities in our state is almost double that of the national average. In 2009, pedestrian deaths accounted for nearly 21 percent of all traffic fatalities.
In the state of Massachusetts in 2009, there were nearly 100 pedestrian fatalities as the result of motor vehicle-related accidents. In addition to these fatalities, there were another 235 pedestrians injured in these types of accidents.
According to national statistics, a pedestrian is killed every 2 hours and a pedestrian is injured every 9 minutes. It's like a war zone out there!
Pedestrian travel is important in the state of Massachusetts and government officials are urged to treat it as such. There are a number of ways that we can help to increase the safety of pedestrians in the area.
Suggestions to Increase Pedestrian Safety from WalkBoston:
-Support legislation to reduce the speed limits in urban areas from 30 miles per hour to 25 miles per hour. The faster a vehicle is traveling when striking a pedestrian the higher the risks are for pedestrian death. At 30 miles per hour a pedestrian has a 40 percent chance of death — at 20 miles per hour the risks are only 5 percent.
-Use pedestrian-friendly design speeds for arterial and collector roadway projects. This means that new roads and the modification of older roadways should keep pedestrian safety as a top concern.
-Projects to create and modify bus, rail and rapid transit should include funding for pedestrian access.
-The quality of pedestrian data should meet that of vehicular data. Sometimes, it's as if you're not counted then you don't count. Right now, the state's data of bicycle and pedestrian accidents and injuries is up. Still, this data is poorly collected.
-Support legislation requiring local pedestrian advisory committees.

If you or someone in your family has been injured or killed in a traffic-related pedestrian accident in Massachusetts, contact Boston Personal Injury Lawyer Jeffrey S. Glassman for a free and confidential appointment to discuss your rights. Call (617) 777-7777.
More Blog Entries:
Millions at Risk for Pedestrian Accidents in Boston, Boston Personal Injury Attorney Blog, January 13, 2012
New Year's Resolution to Help Curb Pedestrian Accidents in Boston, Boston Personal Injury Attorney Blog, January 13, 2012