With Halloween right around the corner on Oct. 31, the state of Massachusetts and our Boston personal injury attorneys would like to offer some advice to help you and your little ones be safe on this scary holiday.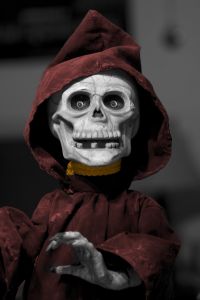 Did you know that your child is four times more likely to be injured in a pedestrian accident in Massachusetts than any other night of the year? We can all help to greatly reduce these risks by providing our little trick-or-treaters with proper supervision and pedestrian safety tips. So before you suit up your little ghosts and goblins, review the following tips and share them with your young ones.

Halloween safety tips from the Massachusetts State Fire Marshal:
-Make sure that all your trick-or-treaters are supervised by a responsible adult.
-Review these safety tips for children who are old enough to venture out on their own.
-Make sure that you are familiar with the neighborhoods you'll be trick-or-treating in. You should plan a route that has minimal traffic and has safe sidewalks.
-Make sure to keep your trick-or-treating clan together. Never separate from one another.
-Always carry a cell phone with you in case of emergencies.
-Always walk along sidewalks.
-Always cross the road at street corners.
-Never dart out from behind a parked car.
-Cover one side of the street at a time. Don't crisscross from side to side while trick-or-treating.
-Make sure children know to never enter a stranger's home or vehicle.
-Only trick-or-treat at homes that are well-lit. Don't approach homes without any lights on.
-Make sure everyone is wearing comfortable shoes.
-Attache reflective tape to all costumes or require trick-or-treaters to carry a flashlight. Another way to help ensure your children are "well lit" to be seen is by placing a flashlight in their treat bags.
-Consider using face paint instead of masks, which can obstruct your child's vision.
-Children should never walk across a person's lawn.
Halloween safety tips for drivers:
-Keep an eye out for witches, rock stars and little celebrities when driving in residential areas.
-If you're driving your children to trick-or-treat from neighborhood to neighborhood, drop them off on the curb side of the road. Never allow them to exit the vehicle on the road side.
-Always use your blinkers so that little goblins know where your vehicle's heading.
-You should never drive drunk.
-It's wise to drive under the speed limit in residential neighborhoods and school zones on Halloween night.
It's important to keep a watchful eye out for our young trick-or-treaters. They are extremely vulnerable for pedestrian accidents as they're less likely to understand the workings and dangers of moving traffic. Be on your best behavior and help your child stay safe and you never know, they may share some of their sweet treats with you. From our Boston personal injury attorneys to your family, have a safe and happy Halloween!

If you or your child has been injured in a pedestrian accident in the Boston area, contact Massachusetts Personal Injury Lawyer Attorney Jeffrey S. Glassman for a free and confidential appointment to discuss your rights. Call (617) 777-7777.
More Blog Entries:
Top 200 Most Dangerous Intersections in Massachusetts Illustrate Risks of Pedestrian Accidents in Boston and Elsewhere
September 25, 2011
Young Skateboarder Killed by Hit-and-Run Driver in Massachusetts Car Accident
August 12, 2011