Rigging dangers are every where at a shipyard. The Occupational Safety and Health Administration (OSHA) hopes their recently published document illustrates tips to preventing future rigging accidents.
Our Boston personal injury lawyers know that working in a shipyard is one of the most hazardous work environments. Ensuring a safe workplace should be the primary goal of your employer to prevent Massachusetts work injuries.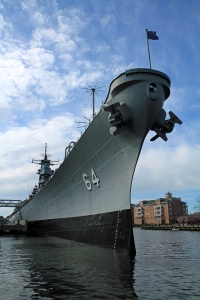 Rigging in a shipyard uses ropes and cables to secure huge ship parts or sections to lifting equipment in order to move them. Needless to say if the rigging isn't done properly the load could come crashing down, killing someone instantly. A SHIPS (Safety and Health Injury Prevention Sheet) was created for rigging and designed to show the do's and don'ts of rigging in order to reduce the number of death and injuries suffered on the job.
The SHIPS document begins with the common causes of serious or fatal shipyard hazards. Fall hazards are caused by unsafe work surfaces, unprotected openings and improperly used ladders. Struck-by and crushing hazards are caused by many situations including: an unsafe rigged load, being in the wrong position when the load is being moved, defective equipment, improperly used tag lines and the load operator placing the load above workers. Electrical hazards exist when equipment and tools are not grounded properly, electric cables become worn or frayed, electrical tools are defective and the hoisting or hauling equipment comes in contact with live electric lines.
The SHIPS document presents illustrations of different scenarios on how injuries occur and how to prevent them. In each scenario a real case history is reviewed and then analysis and preventive measures are discussed. The pictures make it clear even to a layperson what was done incorrectly and how it can be prevented in the future. SHIPS training documents are made to be user and reader friendly and come with mini-posters for quick referencing.
"Far too many workers in shipyard employment have suffered severe injuries or have died from preventable hazards," said Assistant Secretary of Labor for Occupational Safety and Health Dr. David Michaels. "Employers who follow the guidance provided in this injury prevention sheet will create a safer, more healthful work environment for their workers."
OSHA Maritime Industry Web page offers links to Maritime information including: standards and guidelines, compliance information, advisory committee viewpoints, outreach training program and safety and health topics.

If you have been injured in the Boston area, contact Massachusetts Workers' Compensation Attorney Jeffrey S. Glassman for a free and confidential appointment to discuss your rights. Call (617) 777-7777.