A contingency fee is what your lawyer is paid from whatever you are awarded in a personal injury case. The fee comes from the settlement or trial award. The fee is disbursed once the settlement is finalized with the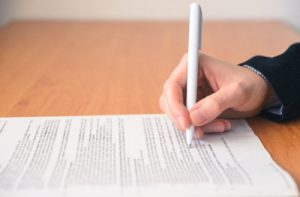 insurance company. The benefit of a contingency fee, besides not paying your lawyer up front, is that you did not need to think about how many hours the lawyer works. The fee is based on a percentage of the ultimate award.
Before you begin a case with your attorney, make sure you have a written agreement. The agreement will detail what to expect once you do receive an award. It basically lays out the percentage that will be taken from the ultimate award and paid to the attorney. Your attorney will determine what percentage will be deducted, at the outset of your relationship, based on the following factors: the difficulty of the case, his or her experience in such cases, the severity of the injuries, how soon after the accident the attorney is hired, the likelihood of trial, and the unique needs of the client.
In the unusual circumstance that you are not awarded anything in your case, you will not have to pay your attorney's fee. In this kind of case, you know that your attorney wants to recover compensation for you as much as you do. Otherwise, all the time put into your case does not get compensated.
The experienced personal injury lawyers at the Law Offices of Jeffrey S. Glassman can assist you in determining whether to take an award as a settlement or go to trial. Call us today at (617) 367-2900 to discuss you case.