An Amherst bicycle accident injured a 22-year-old University of Massachusetts student, after he was struck by a car Saturday night on Main Street, the Patriot Ledger reported.
The driver of the car, believed to be a dark sedan, fled the scene.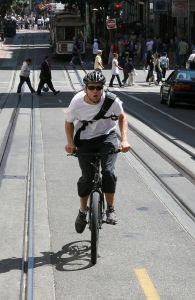 The Massachusetts bicycle accident is the latest in a series of accidents this spring that have cycling advocates voicing frustration at the risks of navigating busy, narrow streets and the lack of better safety measures. A 22-year-old Mission Hill man was killed earlier this month in a Boston bicycle accident with an MBTA bus, the Boston Globe reported.
That accident occurred on a stretch of road near Huntington Avenue, just after the South Huntington split, which cyclist describe as a dangerous free-for-all.
The Boston Globe reports there were a total of 700 cycling accidents in 2008, including 10 fatalities. A total of 66 MBTA bus accidents were reported.
Nationwide, 716 cyclists were killed and 52,000 were injured in bicycle accidents in 2008, according to the National Highway Traffic Safety Administration. The federal government will release accident statistics for last year in the coming weeks.
The average age of cyclists involved in fatal accidents has increased with the popularity of bicycling for recreation and fitness, from 32 in 1998 to 41 in 2008.The Massachusetts Office of Public Safety and Security reports that the most at-risk age groups are those 10-14 years of age and those 35-44 years of age.
The City of Boston's bicycle safety program offers safe biking resources and advice on a number of topics, including sharing the road, traffic principals, lane positioning, dealing with parked cars, changing lanes, turning and turn lanes, bike lanes and traffic lights.