There's a new real-time travel information initiative that was recently designed by the Massachusetts Bay Transportation Authority (MBTA) and the Massachusetts Department of Transportation (MassDOT). The new initiative will be found along Interstate 93. It is designed to help alert commuters about the Lowell Line rail option. Officials are hopeful that this information will help to reel motorists off the Interstate and onto the train, helping to reduce the risks of motor-vehicle accidents.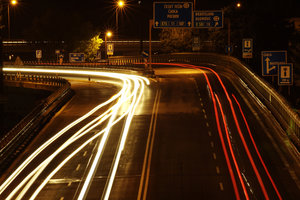 Here's how it will work: A variable-message sign (VMS) will be located near Exit 29, Concord Street, on Interstate 93. The sign will display the exact time of when the next Lowell Line train will leave the Anderson-Woburn Regional Transportation Center. This message will remain on the board to allow commuters to exit the interstate and get to the rail station in time. When drivers wouldn't be able to make it safely from the sign's location to the train, the message will be removed. This is to help to eliminate confusion and speeding on the busy Interstate 93. Many times, daily commutes and rush hours can result in serious accidents and injuries because drivers are rushing to their destinations. With real-time updates, we can help to ease drivers' minds, help to increase roadway safety and help reduce the risks of auto accidents in Boston and elsewhere in Massachusetts.
Our Boston injury attorneys understand that MassDOT's Secretary and Chief Executive Officer Richard A. Davey continues to keep customer safety and customer service as high priorities. With the new real-time technology, nearby commuters will be alerted about the public transit option. This will help to slow down rushing drivers and maybe even pull a few motorists off our roadways and into the world of mass transit. Spreading the word about the convenience of public transportation in the area may help to significantly reduce the risks of car crashes.
"This is another innovative step in encouraging commuters to park the car and take public transportation to work," said Jonathan Davis, MBTA general manager.
The new sign on Interstate 93 will be used to display the departure times on the Lowell line from Anderson/Woburn. These displays will be available all day from Monday through Friday. The first train departs just before 6 a.m. and the last one leaves at just after 11:30 p.m. You can expect this display the entire time. Departures with more than a 10-minute delay will not be shown on the VMS.
The parking lot at this station costs motorists $4 to park all day. This train goes to Commuter Rail Zone 2 and has a one-way trip to Boston for less than $5! It takes less than 30 minutes to get to North Station. One train even takes about 20 minutes (the 8:05 train because it has fewer stops).

If you or a family member has been hurt in an accident in Boston or elsewhere in Massachusetts, contact Boston Injury Lawyer Jeffrey S. Glassman. Our firm offers free and confidential appointments to discuss your rights. Call 877-617-5333 to set up your appointment today!
More Blog Entries:
New Campaign to Reduce Risks of Car Accidents in Massachusetts' Metropolitan Highway System Tunnels, Boston Personal Injury Attorney Blog, March 6, 2012