A new and updated rule, created to protect the safety and health of shipyard workers, has recently been put into effect by the U.S. Department of Labor's Occupational Safety and Health Administration (OSHA). The rule has recently been published in the Federal Register and takes the place of an existing rule. It is now more compatible with the recent advances in shipyard industry practices and technology. It provides new protections from hazards that previously the rule did not address. It now includes details pertaining to the control of hazardous energy. The new rule is expected to prevent nearly 400 serious work inures in Boston and elsewhere in the United States.
"This final rule is the result of collaboration between OSHA and the maritime industry," said Assistant Secretary of Labor for OSHA Dr. David Michaels. "Shipyard work is dangerous, and we believe we have crafted a rule that protects workers while balancing employer concerns regarding implementation."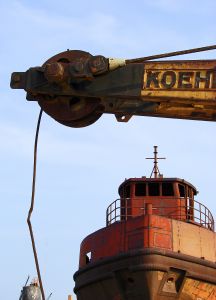 Our Boston personal workers' compensation attorneys know the dangers inherent in working in shipyards. It is the responsibility of the employer to make sure that working conditions meet all safety requirements and regulations in effort to help keep all employees safe on the job.
The final rule will address fourteen workplace safety and health categories. This will update and clarify provisions in current shipyard employment standards that had virtually gone untouched or changed since 1972, when OSHA adopted the initial rule. The new rules include the creating and enforce minimum lighting on certain work sites, assisting employees at the end of their work shifts and at the end of job tasks when working alone. The rule will also add new uniform criteria to be sure that shipyards have an adequate number of properly trained first-aid providers.
OSHA will also be adding new provisions to help control hazardous energy and to increase vehicle safety. Before the establishment of this final rule, the maritime industry had no specific standards that addressed the control of hazardous energy.
According to data from the Labor Department's Bureau of Labor Statistics' Census of Fatal Occupational Injuries, transportation accidents make up nearly 20 percent of all shipyard deaths. The new rule's provisions aim to significantly reduce these incidents as they will now require everyone use of seat belts while operating a motor vehicle in a shipyard.
A full copy of OSHA's new rule can be found on their web page designated to the updates. Employees and employers are encouraged to familiarize themselves with the new regulations and abide by them on shipyards.

If you have been injured in the Boston area, contact Massachusetts Workers' Compensation Attorney Jeffrey S. Glassman for a free and confidential appointment to discuss your rights. Call (617) 777-7777.
More Blog Entries:
Feds shed light on preventing rigging accidents in Massachusetts, Boston Personal Injury Attorney Blog, April 25, 2011
National Safe Digging Month Raises Awareness about Dangers in Massachusetts and Elsewhere, Boston Personal Injury Attorney Blog, April 9, 2011
40 years of federal workplace safety oversight; 100 years of Massachusetts workers' compensation, Boston Personal Injury Attorney Blog, March 14, 2011