Icy roads are to blame, according to NBC NEWS, for a 65-car crash that injured 35 people in Worcester along Route 290. The wreck spanned nearly a half mile of roadway. Massachusetts police report that there were two trailer trucks, two six-wheel trucks and 61 passenger vehicles involved in the 7:00 a.m. accident.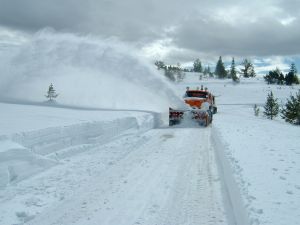 Emergency response teams were delayed in getting to the crash site because the road wasn't salted well enough yet. Officials had to bus roughly 60 people from the accident, according to Massachusetts State Police (MSP). One of the cars that was rear-ended was a state trooper's cruiser, which had stopped at the site of one of the early crashes.
Worcester injury attorneys are frequently called to handle accidents caused by wintery road conditions. Unfortunately, this accident is a reminder of the risks as we head into the busy holiday travel season. While State Police warn residents via Twitter, "Roads are slick in central Mass, Worcester City area. If you don't have to go out, wait" there's nothing that can help to prevent these accidents better than safe and alert driving habits.

The interstate in that area was closed for roughly five hours while officials cleared the mess. The eastbound side of the highway remained open throughout the morning.
Officials also reported that there were accidents along Interstate 190 in the Quinsigamond Bridge area, Interstate 495 as well as on Routes 2, 9 and 146.
The Massachusetts Department of Transportation (MassDOT) notes the dangerous winter driving season has begun and offers some helpful safety tips:
-Before you leave, be sure to clear the ice and snow from your lights and your windows. You should also clear the hood and the roof.
-When out there on our roadways, leave plenty of room for stopping. It's oftentimes tougher to stop on roadways with snow and ice than in regular conditions.
-Check the weather and the road conditions before heading out by calling 511 from your cell phone.
-Try to avoid driving altogether when weather conditions are severe.
-Avoid using cruise control.
-Remember that bridges and shady areas are likely to freeze first. Approach these areas with extreme caution.
-Leave room for maintenance vehicles and plows – stay back at least 200 feet and don't pass on the right.
-Check your tires and make sure your chains fit before the first winter storm and check tire pressure during cold weather. Remember, tire shops and mechanics are busiest just before and during winter storms.
-Always travel with an emergency roadside kit. Keep blankets, a cell phone, nonperishable food items, water, a first-aid kit, a flashlight, a steel shovel and rope to use as a lifeline, flares or reflective hazard triangles and an ice scraper in your vehicle with you at all times.
Remember that at any temperature — 20° Fahrenheit below zero or 90° Fahrenheit above — weather affects road and driving conditions and can pose serious problems. It is important to monitor forecasts on the Web, radio, TV, cable weather channel, or in the daily papers.
If you or someone you love has been injured in a traffic accident in the Boston area, contact Jeffrey S. Glassman for a free and confidential appointment to discuss your rights. Call 888-367-2900.
More Blog Entries:
New Booster Seat Recommendations from the IIHS Impact Massachusetts Parents, Boston Personal Injury Attorney Blog, November 20, 2013
10 Hospitalized in Elementary School Bus Accident, Boston Personal Injury Attorney Blog, November 10, 2013