A minivan clipped a 16-year-old bicyclist on Boston Street, sending him under an oncoming dump truck. The young cyclist was conscious and alert when emergency responders arrived at the Massachusetts bicycle accident scene. He was treated at the scene and then transported to North Shore Children's Hospital in Salem "for precautionary reasons," according to The Salem News.
"He was laying against the rear tires of the truck," and would've been hit if the vehicle had come to a stop any slower, said Deputy Fire Chief Glen Beaudet.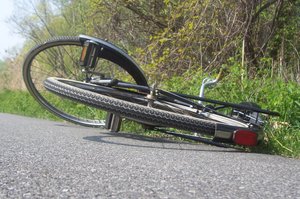 Our Boston bike accident attorneys understand that this accident could have gone much differently, and we are thankful that it didn't. Motorists and cyclists need to be aware and considerate of one another on our Massachusetts roads to help avoid future accidents.
The teen was lucky because instead of being run over by the 14-wheel dump truck, the two front tires of the truck passed over each side of him. The driver of the minivan who reportedly caused the accident was arrested and charged for operating a motor vehicle without having a valid driver's license. The driver of the dump truck was not charged.
According to the National Highway Traffic Safety Administration (NHTSA), more than 600 bicyclists were killed in traffic accidents in the United States in 2009. Another 51,000 bicyclists suffered injuries from these incidents. These types of accidents account for 2 percent of all motor-vehicle traffic deaths each year.
Most of the bicycling accidents that happened in 2009 happened in urban areas at non-intersections. These incidents have increased nearly 10 percent since 2008. Roughly 75 percent of these fatal accidents occurred between 4:00 a.m. and 8:00 p.m. This is also a near 10 percent increase from the previous year.
According to the Centers for Disease Control and Prevention, children are at an increased risk for these types of accidents. Children 15-years-old and younger accounted for nearly 60 percent of all bicycle-related injuries seen in U.S. emergency departments in 2001.
Kid friendly bicycling tips, provided by the NHTSA:
-Make sure your bicycle fits to you. There should only be between 1 and 2 inches between you and the top tube (bar) on a road bike and 3 to 4 inches on a mountain bicycle. Your bicycle seat height should be adjusted to a height that allows a slight bend at the knee when the leg is fully extended. The handlebars should be at the same height as the seat.
-Wear bright colored clothing and have reflectors on your bicycle. Your best bet is to wear neon, fluorescent or other bright colors instead of white.
-Always keep at least one hand on the handlebars.
-Be on the lookout for road hazards. This includes potholes, broken glass, gravel, puddles, leaves and animals.
-Ride with the flow of traffic. Never ride against the flow of traffic.
-Always obey all traffic signs, signals, and lane markings.
-Yield to traffic.
-Ride predictably. Always ride in a straight line and signal your moves to others.
-Be on the lookout for parked cars. Make sure that you ride far enough out from the curb to avoid the unexpected from parked cars, including doors opening, or cars pulling out.

The Boston bicycle accidents lawyers at Jeffrey Glassman Injury Lawyers, LLC know that being involved in a serious or fatal Massachusetts traffic accident can be among the most trying experiences of a lifetime. If you have been injured, or someone you love has been injured or killed in a Boston car accident, we can help. You can schedule a free initial consultation, by contacting us online or calling our offices at (617) 777-7777 to discuss your rights.
Additional Resources:
Cyclist, 16, hit by van, pinned by dump truck, by Michael Phillis, The Salem News
More Blog Entries:
Reported Somerville Bicycle Accidents Expected to Exceed Previous Years, Boston Personal Injury Attorney Blog, July 23, 2011
Springtime in Boston can lead to increased number of cycling accidents, Boston Personal Injury Attorney Blog, April 21, 2011
Friendlier streets may reduce risk of Boston bicycle accidents, Boston Personal Injury Attorney Blog, January 29, 2011